Tweet
The Benefits of Argan Oil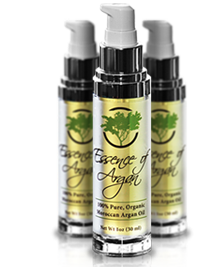 Argan oil is extracted from kernels of crushed Argan fruit.  This can often be used for taking place of other natural oils for hair protection and treatment.  Due to this, there is a huge demand for its marketing, but very limited supply.  Due to its benefits for healthy hair, many beauty experts refer to the oil as liquid gold.
The Benefits
Hydrates hair in a natural way which is undamaging to the hair itself.  It stops curliness and roughness of the hair dead in its tracks. 
Natural antioxidants that are found in this product help strengthen hair by repairing the damaged cellular membranes.
Penetrating into the hair pores or shafts, it enhances the elasticity of hair and also proves to be nourishing which aids in the growth of hair.
Great for uncontrollable hair that is hard to manage, it restores the smoothness of hair, making it easier to manage and style.
The presence of Vitamin E that is found in the oil makes a great agent for hair treatment.  It is helpful in restoring the natural hair and renewing and repairing the damage caused by destructive agents such as heat, over styling, and oxidation.
Helps lock moisture in and restores the luster and shine of hair.
Color treatment of hair can cause certain damage, which makes the hair brittle.  This can take away from the smoothness and shine. The oil helps cures the brittle hair and helps increase the life of color treated hair. 
It is believed that this oil both heals and restores damaged, dry, and weak hair from environmental extremes, excessive styling practices, perms, etc.
Since the oil contains rich amounts of unsaturated fatty acids such as Omega 3 and Omega 9, it is great for hair pores and roots, as these fatty acids contain essential nutrients.  They help strengthen the protein bonding structures found in hair, thereby improving strength of hair and healing the split ends of hair.
Tips for Applying Argan Oil to Hair
Before bathing, pour some oil on your head and spread it across the hair so that it becomes applied from tips to roots of the hair.
Afterwards, gently massage and rub the oil on the scalp.
Using a brush or comb, evenly distribute the oil.
Wrap your head in a hot piece of cloth or towel for some time before washing the hair.
Thoroughly wash your hair.
You can visit purearganoil.net to know more about argan oil and its benefits along with some real reviews.
Leave a comment
Latest Articles
Any Query?